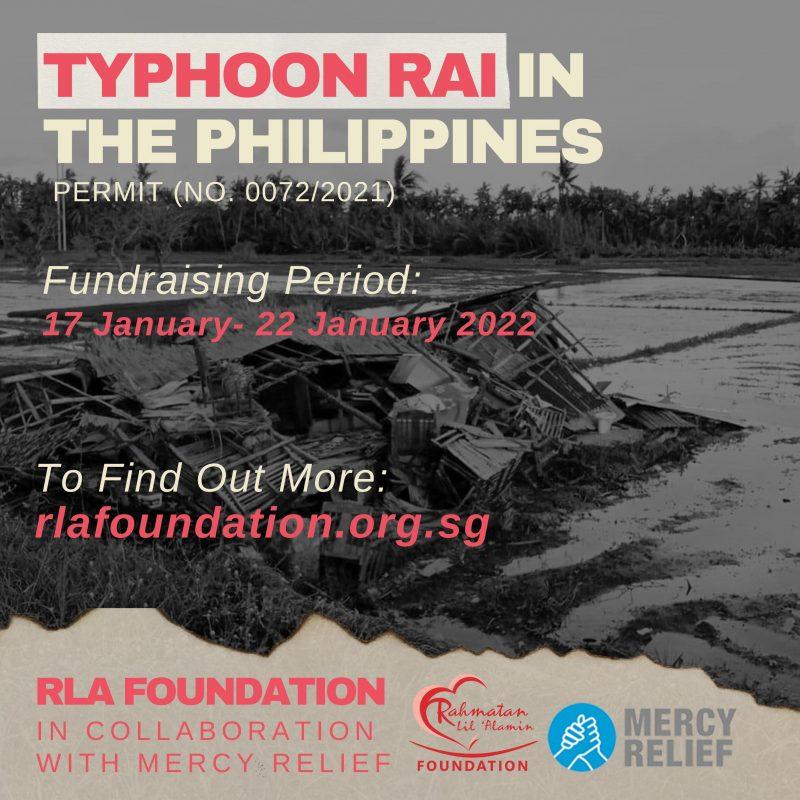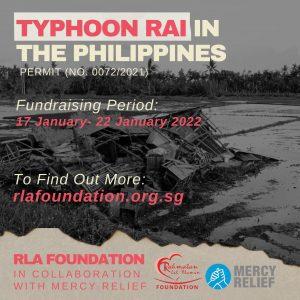 SPECIAL HUMANITARIAN COLLECTION 
Typhoon Rai in the Philippines
The Rahmatan Lil Alamin (Blessings to all) Foundation (RLAF), in collaboration with Mercy Relief, is organising a collection to address water, sanitation and hygiene needs of communities affected by Typhoon Rai in the Philippines.
Also known as Typhoon Odette, the Category-5 typhoon, the highest classification in the Saffir–Simpson hurricane wind scale, was the deadliest tropical cyclone to have struck the Philippines in 2021. It first made landfall on Siargao Island and has caused severe and widespread damage throughout several provinces in the Philippines. To date, it has resulted in at least 405 deaths, 82 reported missing and 1,147 injured. More than 660,000 residents had been displaced and 2 million lives affected.
For this reason, the RLAF is conducting an online collection via multiple platforms starting Monday, 17 January to 22 January 2022 to assist in providing access to safe drinking water, better sanitation and hygiene to communities affected.
Members of the public can make their donation via online :
PayNow – you would need to key in RLAF's UEN: 200910530ZCHQ and indicate under remarks – Rai
(Refer to Annex A for QR Code)
Giving.SG – campaign at giving.sg/rlafoundationsg/typhoonrai
Muslim.SG – RLAF – Typhoon Rai in the Philippines
Interbank transfer via RLAF (Rahmatan lil Alamin Foundation) – Transfer to OCBC Current Account at a/c no: 601313315001 or
Issue a cheque payable to 'RLAF'. State on back of cheque: donor's name, contact number and indicate "Typhoon Rai". Mail your cheque to RLAF (Masjid Yusof Ishak, No 10, Woodlands Drive 17, Singapore 737740) or to MUIS (No. 273 Braddell Road, Singapore 579702)
All collection will be channeled through Mercy Relief which is in contact with their ground partner, Citizens' Disaster Response Centre Foundation (CDRC), to ascertain the appropriate aid required and stand ready to expand immediate relief operations where necessary. For more information, please contact Ms Irdawaty Abdul Kadir at 9155 0065 or email at irdawaty@rlafoundation.org.sg. Alternatively, you may contact Ms Maryam Marhim at 9652 1474 or email at maryam_mohd_marhim@muis.gov.sg.
ANNEX A- QR CODE FOR PAYNOW
Note: There are 2 ways to PayNow :
Scan or retrieve screenshot of the above QR Code using your digital banking's Scan & Pay. You will see "RAI" in the Reference. Proceed to transfer.
Choose PayNow to RLAF's UEN NO. 200910530ZCHQ then indicate "RAI" under Reference before transfer.