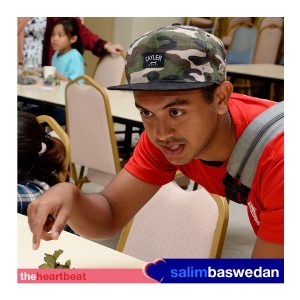 For November's series of #theheartbeat we are doing another feature of one of our ninjas by the name of Salim Fadzi Baswedan.
Salim is 23 and has been volunteering with #RLAFSG for nearly seven years! You could say he's one of the pioneers. A usually camera-shy person, we had a tough time picking the best shots of him in action – but he's often seen sporting his signature camouflage cap — yep, backwards!
Q: Tell us a little bit about yourself.
I enjoy travelling. I'm an adventurous soul and I've sailed on a ship for nine months.
Q: What made you want to be a volunteer?
I first heard about RLAF from a friend and since I've joined, found that the people are amazing. It made me want to volunteer even more. I started volunteering at Abdul Aleem Siddique Mosque, and I have (and still do!) loved the joy in making others happy. It's a double satisfaction. I have never regretted any volunteering I participated in because every moment is its own adventure.
Q: What keeps you going to consistently volunteer for the last eight years?
The ultimate satisfaction of bringing joy. And I really like that many benefits and opportunities are opened to you when you volunteer with RLAF.
Q: If there is one advice you would give to budding youth volunteers…
Go out and explore more. There's limitless of opportunities out there.
That's it for this month's #RLAFeature with Salim Baswedan. Join us again next month for another feature of #theheartbeat where we uncover the special people of RLAF.