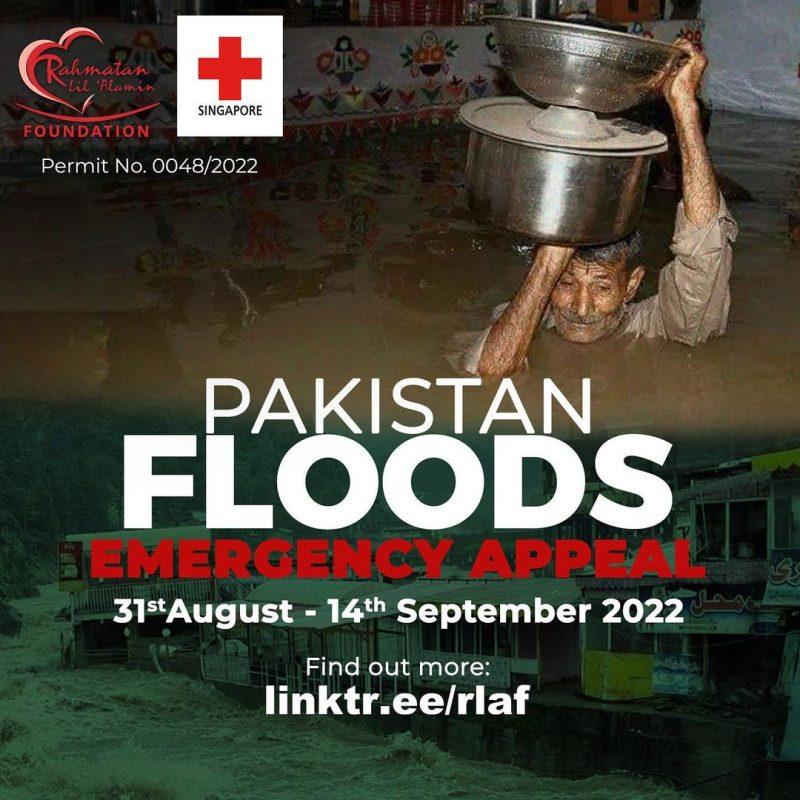 SPECIAL HUMANITARIAN COLLECTION
Pakistan Floods Emergency Appeal
The Rahmatan Lil Alamin (Blessings to all) Foundation (RLAF), in collaboration with the Singapore Red Cross, is organising a collection to support the immediate needs of communities affected by the ongoing floods in Pakistan. These needs include food, emergency shelter, water, sanitation and hygiene items.
Pakistan's deadliest floods since 2010 have claimed the lives of more than 1,100 people, injured more than 1,600 and affected 33 million people – which is about 15 percent of the country's 220 million population. Floodwaters have also destroyed or damaged more than a million homes, washed away bridges and roads and destroyed vital crops, livestock and farmland. With shattered infrastructure resulting in lack of clean water, proper shelter and access to adequate sanitation and hygiene facilities, survivors face increased risks of waterborne diseases.
Even before the floods, Pakistan was suffering from an economic crisis facing high inflation, depreciating currency and current account deficit. Pakistani officials have estimated that the floods have caused more than USD10 billion in damages which might take five years to be repaired and rebuilt, while in the near term Pakistan will be confronted with acute food shortages.
Our hearts go out to the casualties of this humanitarian emergency and their families. For this reason, the RLAF is conducting an online collection starting Wednesday 31 August 2022 to Wednesday, 14 September 2022 to support the immediate needs of survivors and affected communities.
Members of the public can make their donation via:
a. PayNow– you would need to key in RLAF's UEN: 200910530ZRLAand indicate under remarks – Pakistan Floods (Refer to Annex A for QR Code)
b. Giving.SG– campaign at giving.sg/rlafoundationsg/pakistanfloods
c. Interbank transfer via RLAF (Rahmatan lil Alamin Foundation) – Transfer to OCBC Current Account at a/c no: 601313315001 or
d. Issue a cheque payable to 'RLAF'. State on back of cheque: donor's name, contact number and indicate "Pakistan Floods". Mail your cheque to RLAF (Masjid Yusof Ishak, No 10, Woodlands Drive 17, Singapore 737740) or to MUIS (No. 273 Braddell Road, Singapore 579702).
All collection will be channeled through the Singapore Red Cross which is working with Red Cross Red Crescent partners on the ground, including the Pakistan Red Crescent Society (PRCS) and the International Federation of Red Cross and Red Crescent Societies (IFRC), to deliver aid to affected communities. Please be informed that as per regulations by the Inland Revenue Authority of Singapore (IRAS) the donations are not tax-deductible as they are for "foreign charitable purposes". For more information, please contact Ms Zarifah Rohani at 9239 7584 or email at zarifah@rlafoundation.org.sg. Alternatively, you may contact Ms Maryam Marhim at 9652 1474 or email at maryam_mohd_marhim@muis.gov.sg.
RAHMATAN LIL ALAMIN FOUNDATION (RLAF)
 ANNEX A- QR CODE FOR PAYNOW
Note: You would need to key in RLAF's UEN:200910530ZRLA and indicate under remarks – Pakistan Floods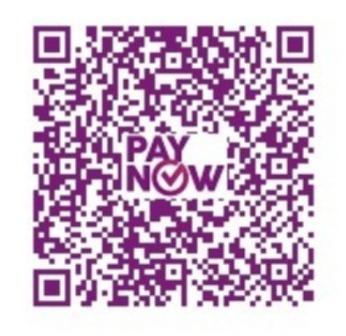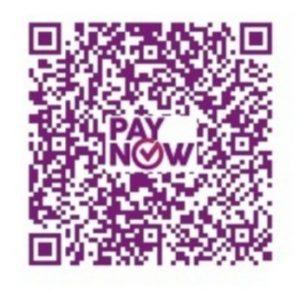 To donate, log in to your digital banking app and scan the above QR code image under the app's Scan and Pay function.
ANNEX B
 ABOUT THE RAHMATAN LIL ALAMIN (BLESSINGS TO ALL) FOUNDATION
The Rahmatan Lil Alamin Foundation (RLAF) was launched by Prime Minister Lee Hsien Loong in July 2009 coinciding with the 40th Anniversary celebrations of the Islamic Religious Council of Singapore (Muis) and the official opening of the Singapore Islamic Hub.
'Rahmatan Lil Alamin' is the Arabic for 'Blessings To All' which is the inspiration behind the establishment of the RLAF. It seeks to fund activities that bring blessings to all irrespective of creed, race or religion including the environment.
The Foundation was established by Muis to provide grants for humanitarian and community development projects and initiatives. The Foundation aims to spread the message of compassion for all humanity and concretising, within the Singapore Muslim community, the ethos of being a community that is a blessing to all. Through the grants, the Foundation hopes to build capacity and deeper interest amongst youths, and empower them to have the skills, capabilities and passion to volunteer and participate in humanitarian work locally and beyond.
ANNEX C
Over the past 17 years, the mosques and RLAF have collected over $11 million from the community for international humanitarian relief projects. These include:
2004 Boxing Day Tsunami (Aceh)
2005 Kashmir Earthquake
2006 JavaEarthquake
2007 LebanonConflict
2007 JakartaFlood
2008 Cyclone Nargis (Myanmar)
2008 Sichuanearthquake
2008 YemenCyclone
2009 Gaza Humanitarian Conflict
2009 Typhoon Ketsana (Philippines)
2009 Earthquake in Sumatra
2009 Typhoon Morakot (Taiwan)
2009 Earthquake in West Java
2009 Karachi Flood
2010 SumatraEarthquake and Tsunami
2010 HaitiEarthquake
2011 Japan's Tohoku and Miyagi Earthquakes/Tsunami
2011 East AfricaDrought (Somalia)
2011 Floods in Thailand
2011 Floods in Cambodia
2011 Philippines Floods
2012 Victims of Conflict in Myanmar
2012 Victims of Conflict in Gaza
2012 PhilippinesFloods
2013 Philippines Floods
2013 PhilippinesTyphoon Haiyan
2014 Syrian Refugees in Turkey
2014 Victims of Conflict in Gaza
2014 KashmirFloods
2014 School Project in Syria
2015 Floods in Malaysia
2015 Earthquake in Nepal
2015 Floods in Myanmar
2015 School Upgrading Project in Gaza
2015 South IndiaFloods
2016 Lighting of Gaza
2016 Earthquakes in Ecuadorand Japan
2016 AcehFloods and Rakhine Violence
2017 Winter Collections and Educational Outreach Programmes for Syrian Refugees in Jordan and Lebanon
2017 Humanitarian Crisis in Yemen
2017 In Aid Of The Survivors Of The Humanitarian Crisis For South Asia Flood
2017 Special Collection For Refugees Fleeing To Bangladesh
2018 Earthquake in Lombok
2018 Floods in Laos
2018 Floods in Kerala
2018 Earthquake and Tsunami in Sulawesi
2019 Sunda StraitTsunami
2020 In Aid of Survivors of Floods in Jakartaand Fires in Australia
2020 In Aid of Survivors of the Tragic Explosions in Beirut
2021 Humanitarian Aid for Gaza
2021 YemenHumanitarian Appeal
2022 Typhoon Rai in the Philippines
2022 In Aid of MalaysiaFlood Survivors
2022 AfghanistanEarthquake Collection