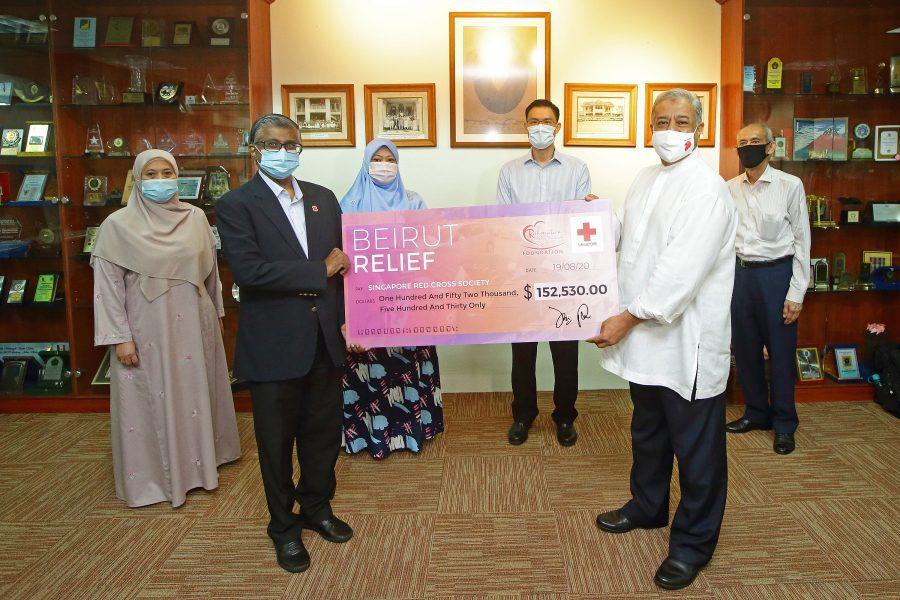 The Rahmatan Lil Alamin (Blessings to all) Foundation (RLAF), in collaboration with the Singapore Red Cross (SRC), has raised a total of $152,530 for the Beirut blast relief. This fundraising initiative was held from 7 to 14 August 2020 to deliver urgent aid and emergency relief to the survivors of the unprecedented explosions at the port in the Lebanese capital city of Beirut in early August.
Of the total sum, $10,000 was generously contributed by Madrasah Aljunied Al-Islamiah. The school had independently rallied its students, teachers and parents to donate towards this cause. For the first time, RLAF also received an overwhelming volume of online contributions for its fundraising efforts. The collection for humanitarian relief efforts is more than 10-fold than previously collected.
RLAF's fundraising efforts are traditionally carried out physically in collaboration with the 70 mosques. However, mosques are not in full operation at the moment due to COVID-19. Therefore, various contribution modes across multiple online platforms such as Giving.sg, MuslimSG, and the RLAF website were adopted to facilitate a convenient transaction for those who were keen to donate to the Beirut Relief.
On 19 August 2020, RLAF handed over the overall collection to the SRC in a cheque handover ceremony at Madrasah Aljunied Al-Islamiah. The funds will be delivered to the Lebanese Red Cross that is currently providing the necessary aid and assistance on the ground in Beirut.
RLAF wishes to take this opportunity to thank all individuals and groups that have stepped forward to generously contribute to this worthy cause despite the economic uncertainty brought about by the COVID-19 pandemic. We hope that through this little contribution, together, we will bring some relief and comfort to the people of Lebanon who have been adversely affected by the tragedy.