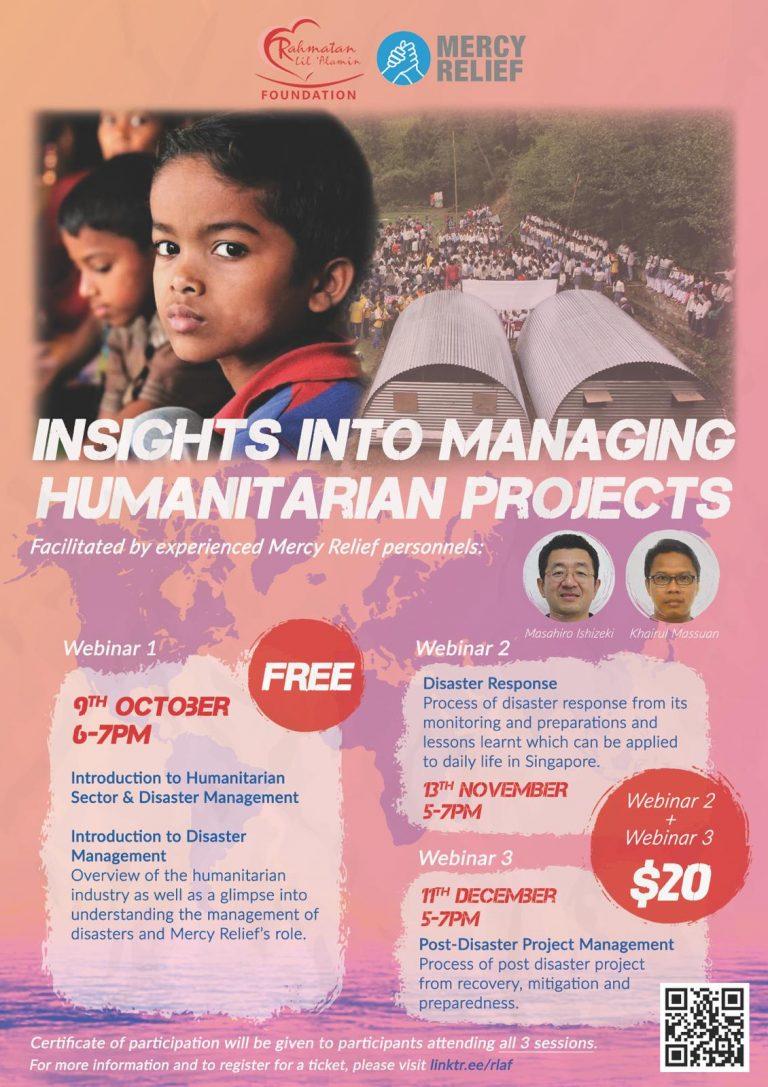 In partnership with Mercy Relief, we will be holding an inaugural Insights Into Managing Humanitarian Projects webinar
This 3-in-1 package will provide learners with the following :
1. 𝗜𝗻𝘁𝗿𝗼𝗱𝘂𝗰𝘁𝗶𝗼𝗻 𝘁𝗼 𝗗𝗶𝘀𝗮𝘀𝘁𝗲𝗿 𝗠𝗮𝗻𝗮𝗴𝗲𝗺𝗲𝗻𝘁 (𝟵 𝗢𝗰𝘁𝗼𝗯𝗲𝗿, 𝟲-𝟳𝗽𝗺) : Overview of the humanitarian industry as well as a glimpse into understanding the management of disasters
2. 𝗗𝗶𝘀𝗮𝘀𝘁𝗲𝗿 𝗥𝗲𝘀𝗽𝗼𝗻𝘀𝗲 (𝟭𝟯 𝗡𝗼𝘃𝗲𝗺𝗯𝗲𝗿, 𝟱-𝟳𝗽𝗺) : Process of disaster response from its monitoring and preparations and lessons learnt which can be applied to daily life in Singapore
3. 𝗣𝗼𝘀𝘁-𝗗𝗶𝘀𝗮𝘀𝘁𝗲𝗿 𝗣𝗿𝗼𝗷𝗲𝗰𝘁 𝗠𝗮𝗻𝗮𝗴𝗲𝗺𝗲𝗻𝘁 (𝟭𝟭 𝗗𝗲𝗰𝗲𝗺𝗯𝗲𝗿, 𝟱-𝟳𝗽𝗺) : Process of post-disaster project from recovery, mitigation and preparedness
Certificate of participation will be given to participants attending all 3 webinars.